Thomson Reuters Launches Real Time Rates for Six Cryptocurrencies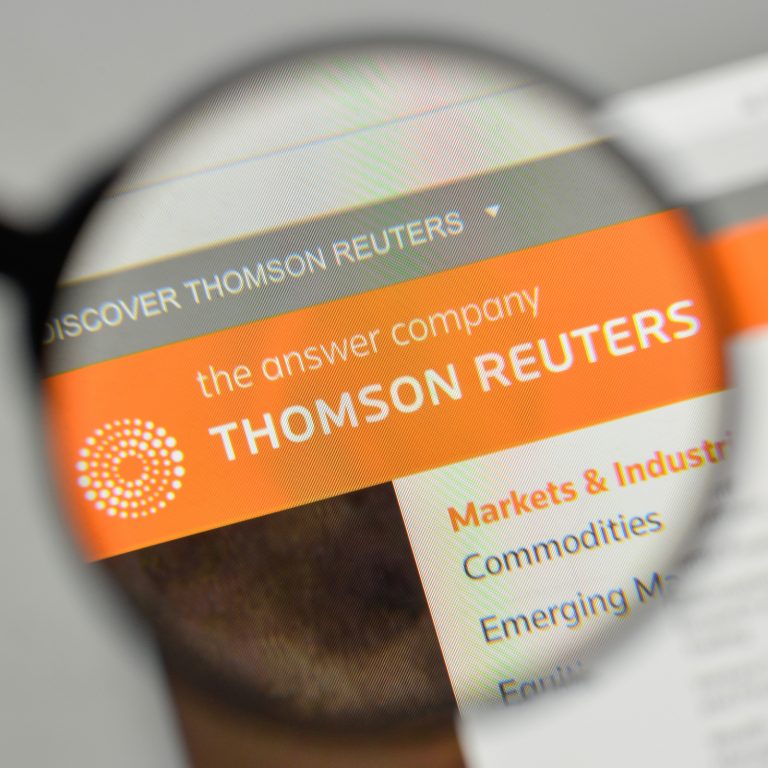 Thomson Reuters is launching a cryptocurrency real-time rates data feed. The new service is expected to provide "reliable, real-time information" for six digital coins across major crypto exchanges. The stated goal is to encourage efficiency and transparency for cryptocurrency investors within the global market place.
Also read: Thomson Reuters and Marketpsych Launch Bitcoin Sentiment Index
Six Cryptocurrencies Will Be Tracked
The new Cryptocurrency Real Time Rates are already accessible through a customized API interface on Thomson Reuters Eikon platform. The application is providing trading data from various crypto exchanges including Bitflyer and Bitpoint. More trading platforms will be added in the future, according to a Reuters report.
The announcement comes after a recent Thomson Reuters survey found that cryptocurrency trading by financial firms is likely increase this year. About 20% of 400 finance companies participating in the study are considering entering trading crypto assets within 12 months. That means that one in every five of the undisclosed businesses plans to establish direct contact with cryptocurrencies in 2018.
Pricing data for the real-time rates will cover six cryptocurrencies, not mentioned in the report. The launch of the service could be interpreted as an indication that Reuters is considering embracing the digital asset class on ?its own trading platforms. In December, the mass media and information giant added bitcoin cash (BCH) to Eikon. BCH became only the third cryptocurrency to list on the platform after bitcoin core (BTC) and ethereum. ?
The latest release comes after an announcement from CME Group which is launching a daily price benchmark for ?Ethereum, as reported by Financial Magnets. The service will be provided in partnership with the cryptocurrency trading platform Crypto Facilities.?
Earlier this year, Thomson Reuters Corp. announced the launch of a new version of the Marketpsych Indices sentiment data feed, which includes analysis of bitcoin market sentiment. The service is provided in cooperation with Marketpsych Data LLC, as news.Bitcoin.com reported in March. 400 news and social media sites, including many specific to cryptocurrencies, have been added to the feed. Each one of them is scanned and scored in real time to ascertain market-moving sentiments and themes.
Immense Growth Highlights Strong Momentum
According to Michael Go, head of FX Market Development for Asia Pacific at Thomson Reuters, the immense growth in the cryptocurrency market in the last decade highlights the strong momentum around the new technology and the tradable asset class. "Thomson Reuters Cryptocurrency Real Time Rates enhances our rate offering and helps create a transparent and efficient global marketplace, vital to the future stability of cryptocurrency trading to support the investor," he commented.
"As the world's largest cryptocurrency exchange, Bitflyer has made efforts to facilitate the development of cryptocurrency markets," said Yuzo Kano, CEO and co-founder of the trading platform. He noted that Bitflyer is the first company to obtain license to trade cryptocurrencies in Japan, the US and Europe. "We are delighted to be able to provide valuable data to customers worldwide through Thomson Reuters," Kano added.
President and representative director of Bitpoint, Genki Oda, also expressed satisfaction with the partnership on the real-time rates. "We are pleased to cooperate with Thomson Reuters in the further enhancement of its services and hope that our data will become a benchmark for the cryptocurrency industry as a global cryptocurrency trading exchange," Oda said.
Do you think the introduction of services like the real-time crypto rates helps the adoption of cryptocurrencies? Share your opinions in the comments section below.
Images courtesy of Shutterstock.
Do you agree with us that Bitcoin is the best invention since sliced bread? Thought so. That's why we are building this online universe revolving around anything and everything Bitcoin. We have a store. And a forum. And a casino, a pool and real-time price statistics.
The post Thomson Reuters Launches Real Time Rates for Six Cryptocurrencies appeared first on Bitcoin News.